Dumpster Rental Palmyra PA
Rent the best
dumpster rental Palmyra PA
has to offer from locally owned and operated Weee Weee Dump LLC! Serving the heart of Pennsylvania with a wide selection of dumpsters for all your disposal needs, we're committed to providing dependable and cost-effective solutions, no matter what you're up against. Browse our website to learn more about how our services can simplify your waste disposal requirements here in
Palmyra, Pennsylvania
, and the surrounding areas of Palmyra County.
Our dedication to customer satisfaction, friendly support, and timely delivery ensures your project stays on track. We understand that the requirements for each job are unique, whether you're remodeling your kitchen or clearing out an office park, and that's why we offer various dumpster sizes tailored to your specific needs. Whether it's a small home cleanup or a large construction project, we've got you covered with the dumpster rental Palmyra PA customers depend on.
Contact us today and let us take care of your waste disposal needs. Our professional team will guide you in choosing the right dumpster rental and provide you with a transparent, no-hassle quote. With our knowledgeable and professional crew, you can count on quality service that's reliable and budget-friendly. Browse our website or give us a call, and let's get started on making your life a little less cluttered with the #1 dumpster rental Palmyra PA can provide!
We Take Just About Everything
Some examples of the junk we haul away include:
Refrigerator Disposal

Garbage Removal

Mattress Disposal

Foreclosure Clean Outs
Construction Waste Removal

Yard Waste Removal

Trash Removal

Appliance Removal
Television Disposal & Recycling

Furniture Removal

E-Waste Disposal

Hot Tub Disposal
Why Choose Weee Weee Dump For Your Palmyra Dumpster Rental?
When it comes to booking a Palmyra dumpster rental, Weee Weee Dump LLC is the name to trust. One of the reasons customers keep coming back to our services is our commitment to offering affordable prices without skimping on quality. Whether you're tackling a home renovation or a large commercial project, our competitive pricing model ensures you receive great value for your investment.

We offer a range of sizes for a trash dumpster rental in Palmyra, so that you have the space you need to seamlessly remove waste. Whether you need a small bin for a quick clean-up or a large container for heavy-duty construction waste, we've got the perfect fit. This customization ensures that you only pay for what you need when you need it, making the entire process more economical and efficient.

Customer service is more than a phrase for our team; it's our commitment. Our friendly and professional team is available to guide you through the rental process for the dumpsters Palmyra prefers. Our staff is available to answer any questions and ensure that your experience with us is seamless and satisfying. We understand that renting a dumpster might be new for some, so we're here to make it easy and understandable.

Time is precious, and that's why our convenient online rental process is such a hit with our customers. With just a few clicks on our website, you can select, book, and schedule your local dumpster rental in Palmyra directly from your phone or laptop. It's a user-friendly approach designed with busy lives in mind, allowing you to focus on what's essential - your project.

The combination of affordability, varied size options, reliable customer service, and an efficient online booking process makes our team the preferred choice for homeowners, businesses, property managers, and individuals in Palmyra. Our years of experience in the field have shaped a brand that understands your needs and works tirelessly to meet them. With our team by your side, you're not just renting a dumpster; you're partnering with a company that's as invested in your project's success as you are. Explore our Palmyra dumpster rental services today with our team and discover the difference we can make!
Dumpster Rental Palmyra PA: Versatile Dumpster Solutions for Waste Removal Projects
Book the dumpster rental Palmyra PA uses to successfully complete a wide variety of projects. Our dumpster rentals are an essential tool for those undertaking home renovations or clean-up projects. Whether you're transforming a room or simply clearing out old items, our dumpsters offer a convenient way to manage all the waste. By providing a central place to discard materials, they help keep your project site organized, letting you focus on the task at hand. For commercial construction and demolition projects, our Palmyra dumpsters are equally invaluable.

The variety of sizes we offer can handle different materials, from concrete to metals. Having the right dumpster ensures that waste disposal won't hinder your project's progress, keeping the job site safe and efficient. Whether it's move-out time at the apartment complex you manage or your hotel is undergoing a series of renovations, we have the services and selections that will help you complete the task at hand with ease.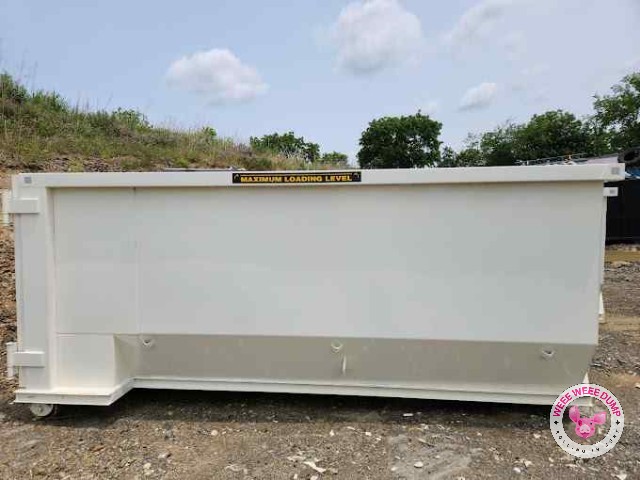 But our dumpsters aren't just for building projects. If you're embarking on landscaping or yard work, our rentals can simplify the disposal of yard waste. Whether it's tree trimmings or garden debris, our containers are designed to handle it all. Now you can create the garden of your dreams with the dumpster rental prices Palmyra gardeners can afford without the headache of managing the waste. Even special events and festivals can benefit from the dumpster rental Palmyra PA relies on. Large, community-wide gatherings generate waste that needs to be managed effectively. Our dumpsters can handle everything that large groups of people throw in them, ensuring that your venue stays clean. When you partner with us, you contribute to a successful event, creating a pleasant experience for everyone involved. No matter what your project or event may be, our company has a dumpster rental solution tailored to your needs.
Rent a Dumpster Palmyra Residents Use for All Waste Removal Projects
Rent a dumpster Palmyra homeowners count on for residential repairs, renovations, and cleanouts. We know that every home project comes with its own set of challenges—and waste shouldn't be one of them! Whether you're diving into a DIY home renovation, decluttering decades of memories from your attic, or even sprucing up your garden for the summer, our roll off dumpsters are the go-to solution for homeowners. Maybe you're redoing your kitchen and need to get rid of old cabinets and fixtures? Or perhaps you've finally decided to tackle that basement cleanup? From landscaping debris to remodeling waste, our Palmyra roll off dumpster rentals are designed to handle it all. With various sizes to choose from and hassle-free delivery and pick-up, managing waste has never been more straightforward. With Weee Weee Dump LLC and our inventory of dumpsters in Palmyra PA by your side, you can focus on transforming your space and turning your home dreams into reality.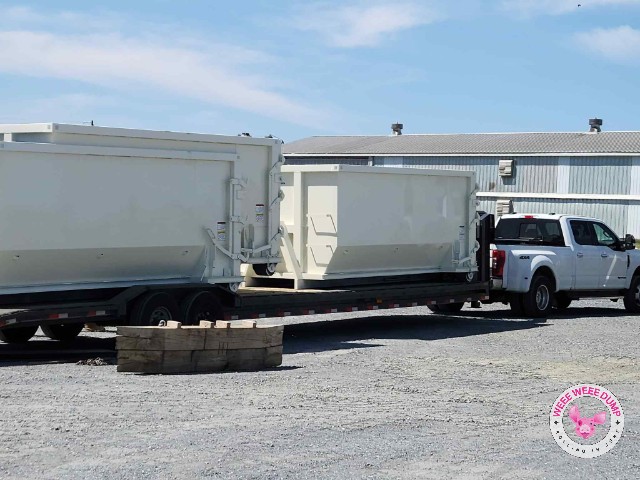 Use Our Dumpster in Palmyra for Yard Waste Removal
Choose our dumpster in Palmyra for the perfect ally for your yard waste removal projects. If you're undertaking a garden makeover or seasonal yard clean-up, managing the waste can be a challenge. That's where our dumpsters come into play. Designed to handle all types of yard debris, from branches and leaves to soil and old garden furniture, our dumpsters streamline the entire process.

The flexibility in size options ensures that no project is too big or too small, and our professional team is there to guide you in choosing the right fit. With our timely delivery, high-quality cheap dumpster rental in Palmyra PA, and responsible disposal practices, you can focus on creating the outdoor space you've always desired without the stress of handling the waste. Choose our company for your yard waste removal and make your gardening project a breeze!
Choose the Dumpster Palmyra Relies On for Construction Projects
Reserve a dumpster Palmyra trusts for your construction projects. These projects demand efficient waste management, and our company's dumpster rentals are tailored to this exact need. Our roll-off dumpsters are designed to handle the diverse materials common in construction, such as concrete, metal, wood, and more. By offering a range of sizes, we ensure that every construction project, whether small or large, can find the perfect fit. The convenience of having a centralized place for all waste materials not only keeps the job site organized but also enhances safety and efficiency. Our commitment to timely delivery and pick-up aligns with construction schedules, ensuring that waste management never becomes a bottleneck in the project. With competitive pricing and a dedication to customer satisfaction, we're the dumpster service Palmyra knows is a reliable partner for construction use. Trusting us with your waste management allows you to focus on building, knowing that the disposal is taken care of.
Easy-Loading Dumpsters in Palmyra For Roofing Projects
Book roofing dumpsters in Palmyra to clear your work site and keep your roofing project on track. Roofing projects are demanding tasks that generate a significant amount of waste, including shingles, nails, and other debris. Our dumpsters are designed to handle the specific challenges of roofing waste, providing a centralized place to collect and dispose of materials. By offering a small dumpster rental Palmyra uses for residential tasks as well as various larger sizes, we ensure that every roofing project, regardless of its scale or scope, can find the perfect fit.

The convenience we provide extends to timely delivery and pick-up, aligning with the project's timeline. Our commitment to responsible disposal practices also means that you can focus on the roofing task without worrying about the aftermath. With competitive pricing and tailored solutions, our team's dumpster rentals are an essential partner for roofing projects, enhancing efficiency and safety on the job site.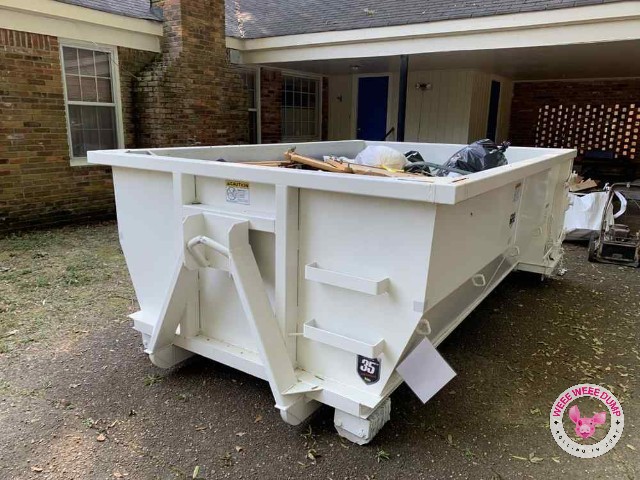 Heavy-Duty Dumpster Rentals Palmyra Uses to Clear Demolition Waste
Choose the dumpster rentals Palmyra prefers for your demolition projects. Demolition projects require careful planning, especially when it comes to waste management. That's where our team's dumpster rentals shine. Our dumpsters are crafted to withstand the heavy and varied debris typical of demolition work. Whether it's concrete, metal, or other materials, our dumpsters can handle it all. By offering different sizes, we ensure that demolition projects of any scale can be accommodated. The convenience of a central location for waste disposal keeps the site organized and safe, making the whole process more efficient. Plus, our commitment to prompt delivery and pick-up means that our dumpster rental in Palmyra PA aligns seamlessly with the project's timeline. Our team's professional approach to handling demolition waste, coupled with competitive pricing, makes our dumpster rentals an essential partner for demolition projects. Trusting us with your waste disposal allows you to concentrate on the task at hand, knowing that the clean-up is under control.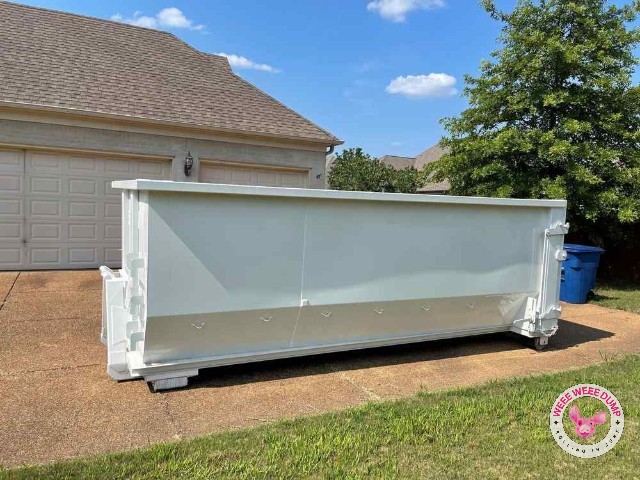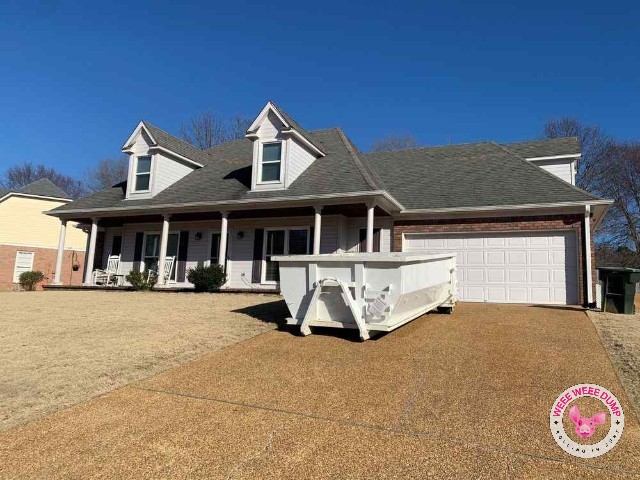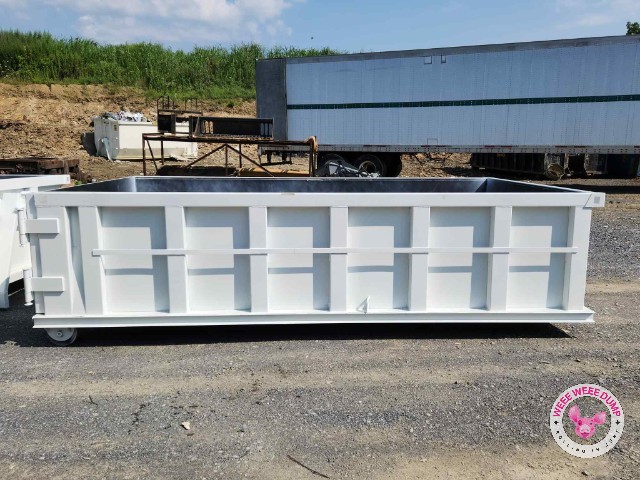 Rent a Dumpster Palmyra Business Owners Trust for Commercial Projects
Rent a dumpster Palmyra businesses depend on for commercial waste removal projects of all varieties. We recognize the challenges business owners face when undertaking commercial projects. Whether you're revamping a storefront, setting up a new office space, or tearing down old structures, waste can pile up fast! That's where our roll off bins come into play. Tailored for convenience, these bins are the perfect solution for businesses on the move. Just starting a project and need to dispose of old fixtures and furnishings? We've got you covered. Or maybe you're at the final stages, dealing with construction debris? Our bins are up for the task. Our user-friendly service ensures that you can focus on what you do best - running your business. With flexible rental periods and a variety of sizes, you'll find just the right fit for your project. At Weee Weee Dump LLC, we aim to make waste disposal the easiest part of your commercial venture when you rent a roll off dumpster Palmyra trusts from our experienced and established company.
Dumpster Rental Palmyra Prices that Factories, Warehouses, and Other Industrial Sectors Appreciate
We've got the dumpster rental Palmyra prices that are ideal for industrial use. Factory and warehouse environments often involve complex pricing and waste management needs, and our company's dumpster rentals are tailored to meet these demands. At Weee Weee Dump LLC, we understand the unique waste management needs of factories, warehouses, and other industrial hubs. These bustling centers of production are the backbone of our economy, and they produce more than just goods—they also generate a significant amount of waste. Whether it's packaging remnants, unused raw materials, or outdated equipment, we've got the right dumpster for the job. Our service is designed to seamlessly fit into your operational flow, ensuring waste doesn't become a hindrance. Got a sudden uptick in production? No worries! Our flexible rental options allow you to manage those unexpected waste spikes. And remember, by partnering with us, you're not just keeping your facility clean; you're also championing safer workspaces and eco-friendly industrial practices. We're more than just a dumpster rental company—we're your waste management ally, providing the roll off dumpsters Palmyra industrial managers can count on.
How To Book a Dumpster Rental in Palmyra Online
Booking a dumpster rental in Palmyra with Weee Weee Dump LLC is a straightforward process designed to save you time and energy. Start by selecting the dumpster type that fits your needs; options are available to accommodate various projects and materials. Next, choose the service type that best describes your situation, whether it's for homeowner use or commercial purposes. This helps us understand your needs better and provide a tailored solution to help support your waste disposal project.

After browsing our dumpsters for rent in Palmyra, just select the rental dates that suit your project's timeline, ensuring availability when and where you need it. Once those details are in place, proceed to the secure checkout. This is where you'll finalize your booking using any major credit card and receive all the necessary confirmation details. With just a few clicks, your dumpster rental will be reserved, and our company's professional team will be ready to support your dumpster rental in Palmyra! With the user-friendly platform of Weee Weee Dump LLC, booking a dumpster online has never been more straightforward—just a few clicks, and your disposal solution is on its way to your doorstep.


Range of Sizes for the Cheap Dumpster Rental Palmyra PA Depends On
We offer high-quality and cheap dumpster rental Palmyra PA uses to complete a range of disposal projects, big and small.
The 10-yard dumpster is a versatile choice and measures 14' L x 8' W x 36" H. Our 10-yards are often used for smaller remodeling projects like bathroom renovations or flooring removal.

For those needing a bit more space, the 15-yard dumpster offers fantastic value, measuring 14' L x 4.5' W x 36" H. This size is frequently rented to help support roofing cleanups, bedroom remodels, two-car garage cleanouts, and more.

The 20-yard dumpster is designed for larger projects and measures 14' L x 8' W x 64' H, making it a popular choice for industrial, commercial, and construction projects of all sizes. This size is typically rented for large-scale landscaping, commercial roof replacements, driveway demolitions, home cleanouts, and more.

Lastly, the Construction and Demolition Heavy Duty 10-yard Dumpster is a specialized option specifically for construction and demolition waste removal. With dimensions of 14' L x 8' W x 36" H, it's built to handle the rigors of construction and demolition projects with ease. This option combines robust construction with pricing tailored to the needs of anyone seeking dumpsters for rent in Palmyra.
We Deliver The Dumpster Rentals Palmyra PA and Surrounding Areas Count On
Our partnership with the Palmyra Area School District shows our dedication to the local community. By working together, we strive to provide a seamless service that supports the school district's needs, whether a minor renovation or a significant construction project. When businesses, community organizations, churches, and school campuses need to rent a dumpster in Palmyra, they count on our sizes and selections to get the job done. As proud members of the community, we make it our personal responsibility to keep public spaces like Palmyra Municipal Pool Park and Ridge Road Park beautiful and waste-free. Whether you're spending the day at Hershey's Chocolate World or one of our lovely parks, Weee Weee Dump plays a role in ensuring our county remains a wonderful place to live! We partner directly with the Greater Lebanon Refuse Authority to ensure all of the waste we collect is disposed of properly in accordance with local regulations, so you can rest assured that when you trust our team with your unwanted junk, it's handled with care. We offer the dumpster rentals Palmyra PA uses to demonstrate a strong commitment to the local community. There's no need to spend hours searching for the best "dumpster rental near me Palmyra" with our reliable and reasonably-priced services. By providing timely delivery, versatile options, and partnering with iconic institutions, we offer a service that's more than just a business – it's a partnership with the people and places that make this town special.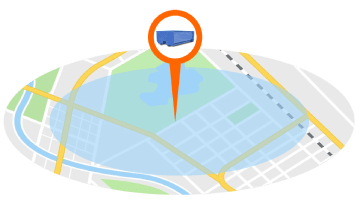 At Weee Weee Dump LLC, we take pride in providing the dumpster rentals Palmyra PA and surrounding areas of Lebanon County can depend on for all of their waste removal needs. We ensure timely delivery of our various dumpster sizes to the 17078 zip code, as well as the surrounding cities of Lebanon, Myerstown, Pine Grove, Fredericksburg, Jonestown, Reading, Annville, Frystown, Bethel, and Grantville. If you've been on the hunt for the dumpster rental Fredericksburg PA can depend on, look no further. If you don't see your city or zip code listed, give us a call to see if we can make arrangements in your area.
View Service Area
FAQs About Booking a Palmyra Dumpster
We understand that renting a Palmyra dumpster may come with questions or concerns, so take a look at our frequently asked questions below and get in touch with our team if you need any additional information before scheduling your rental today!
Q.
What size dumpster should I rent for my project?
A.
We offer various dumpster sizes to fit different project needs. Understanding the nature of your project and the type of materials you'll be disposing of can help you choose the right size and the dumpster services Palmyra customers need. Our customer service team is just a phone call away if you need additional help in booking the perfect Palmyra dumpster for your specific waste removal needs!
Q.
How does the rental process work, and what are the rental terms?
A.
Our rental process is simple and begins with selecting the dumpster size, service type, and rental dates online. Rental terms for the roll off dumpster rental Palmyra trusts typically include up to 7 days of use, with additional days available for an extra fee of $50.00 a day for most sizes.
Q.
What types of materials can I dispose of in the dumpster?
A.
Our dumpsters are suited for various waste types, including construction debris, yard waste, and household junk. We do not accept hazardous materials, including gasoline, motor oils, liquid paints, or medical waste, when you book the dumpster Palmyra PA depends on for efficient and cost-effective waste removal.
Q.
How is the dumpster delivered, and what should I prepare for delivery?
A.
We provide timely delivery to the address you provide when booking. It's essential to ensure that the delivery area is clear of any potential obstacles and accessible for our trucks. Otherwise, you do not have to be present for the drop-off, and our team will take care of it. If you have special instructions, please let us know at the time of booking.
Q.
How much does it cost to rent a dumpster in Palmyra PA?
A.
Our pricing is transparent and includes delivery, rental time, and tonnage. Additional fees may apply for extra days or weight if needed, and any special requirements for your dumpster-rental-Palmyra-PA should be discussed at the time of booking.